Wedding Gazebo
The Gazebo can accommodate up to 100 guests.
The Wedding Gazebo, with connecting 80' Rose Arbor, is for those who envision a walk through hundreds of roses on their wedding day! Lined with aged stone pavers, the walk leads from a private home, through dozens of antique Tea roses and then under a massive cantera stone and wood arbor to end at the beautiful Amish built Gazebo. The Rose Arbor is covered in climbing roses. The gazebo is faced by two fan shaped grassy areas, where you may elect to place rented chairs for your guests. There is also plenty of standing room for any overflow.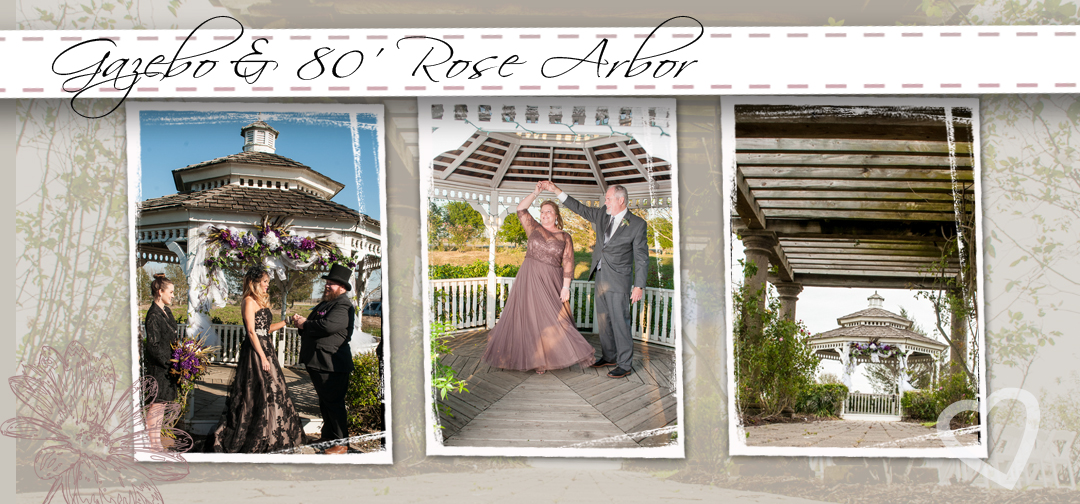 The Covered Bridge
The Covered Bridge can accommodate up to 150 guests or more to max 300.
The distinctive covered bridge would make a captivating site for a large wedding! The bridge is over the narrowest point of a 1 acre lake, the covered bridge is the perfect place for those looking for an unusual and out of the ordinary location for their special day. The view from one side of the covered bridge overlooks the Gazebo in perfect harmony. The Bride can walk from her Bridal Suite and come thru the covered bridge to be wed on the other side of the water with grassy opening wing spandes can be lined with white chairs. This area easily can fit about 300 people sitting with plenty of standing room for guest to watch a beautiful magestic wedding.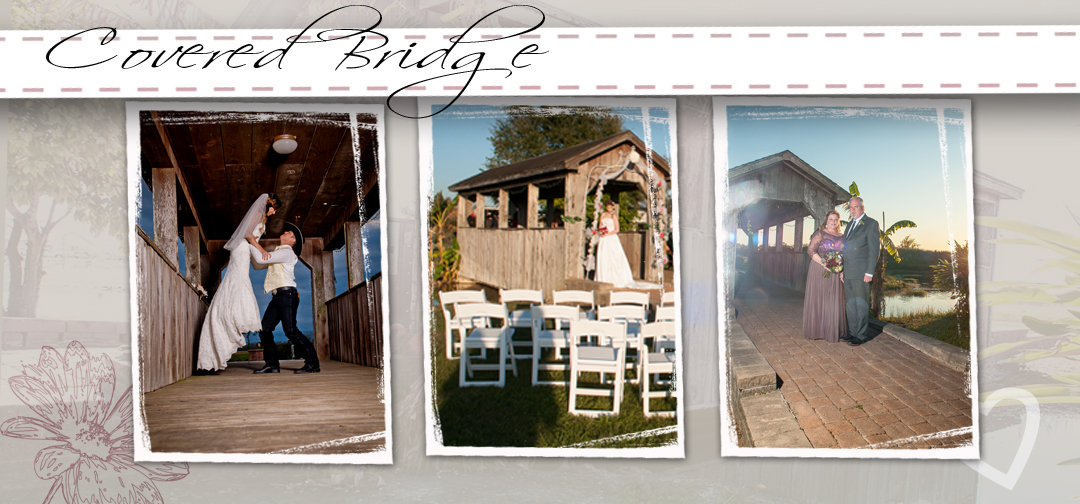 The Chapel of the Gardens
The Chapel of the Gardens can accommodate up to 75 guests.
The Chapel is Surrounded by a white picket fence. It's a quaint location to hold a intimate wedding of 30 guests in the court yard and 45 more chairs out side the court yard with a perfect view of the cermoney. The extra-wide steps and double doorway provides ample room for the wedding party.
Small ceremonies may be held inside. At only 144 square feet, it's just big enough for the bride, groom, minister and 8 chairs for important loved ones. The Chapel of the Gardens is surrouned by a cottage garden, with roses, like the Polyantha 'Cecile Brunner' (1881) and Noisette 'Reve d'Or' (1869), making their apperance in many places.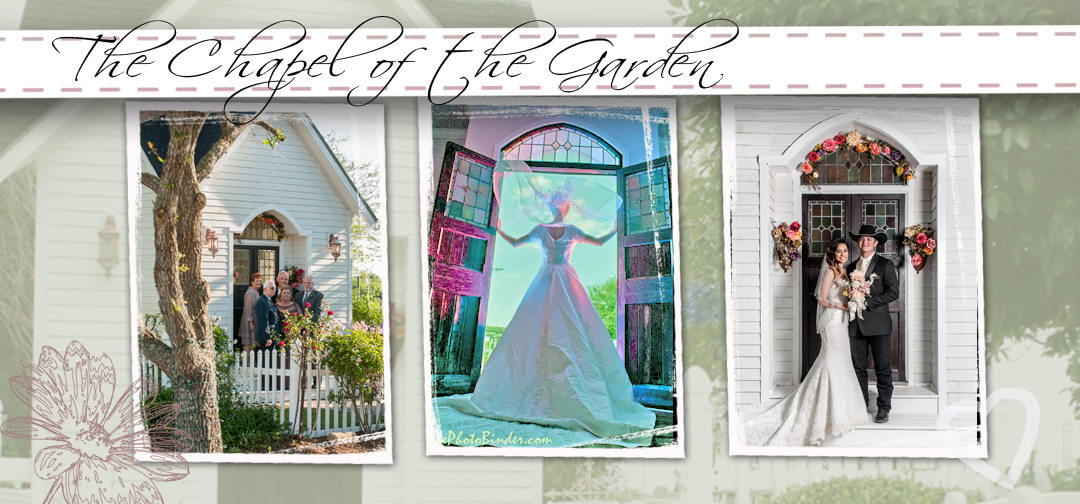 The Wishing Well
The Wishing well is a water fountain at the end of the covered bridge and is lined up in view to the Gazebo. The Wishing well can seat up to300 people and can hold a tent area for shade for summer weddings.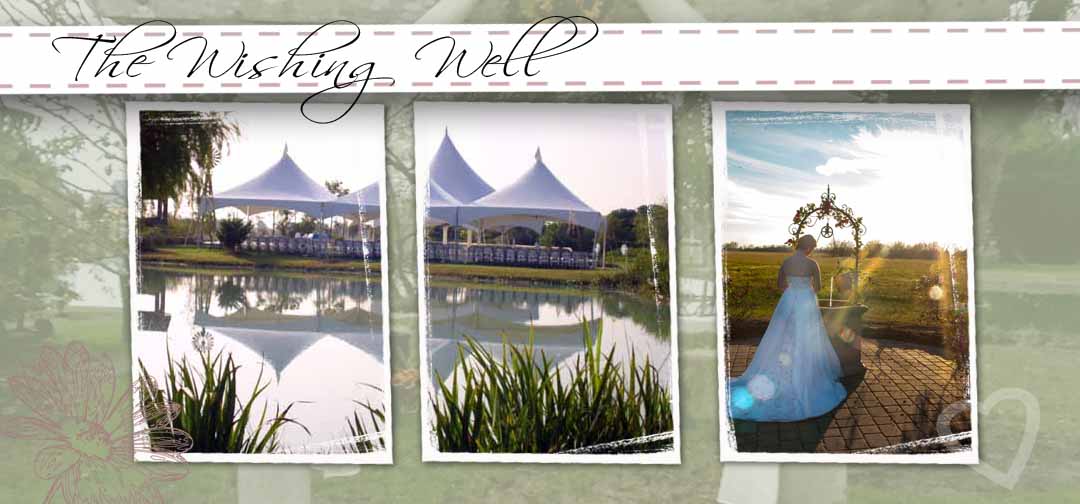 The Terrace - Patio
The Terrace - Patio is being covered at this time and will be ready for our next wedding and can seat up to 150 people under it with room to dance. It will be the Center on all Receptions. All outdoor areas have running water and electricity for all your needs.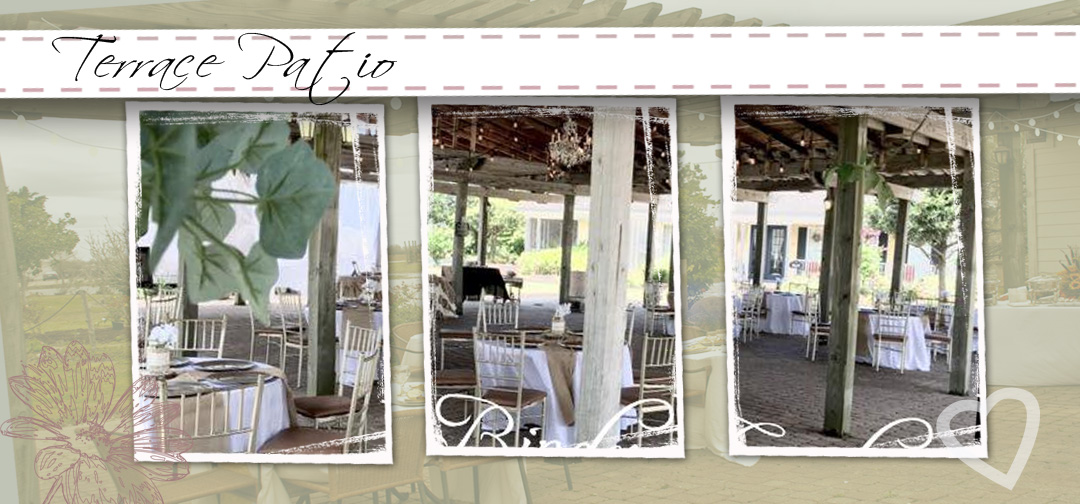 Lake Side
Lake Side and Lake Front is perfect for those water front ceremonies or receptions overlooking the beautiful gardens Lake from can accommodate up to 50 guests and Lake Side can accommodate up to 75 guests.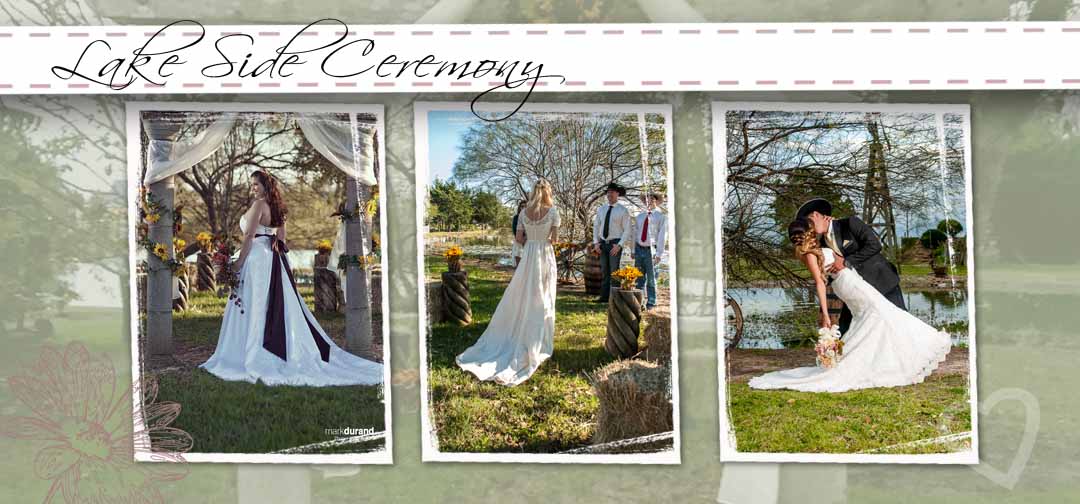 The Big House
The Big house can accommodate up to 50 guests and still hold a dance floor, it can also hold Ceremonies for up to 75 guests seating with overflow on the back Veranda that can seat 30 guests. The big house also has the Bridal Suite for the Bride to get ready before her big event with a private restroom and waiting area for guest to relax.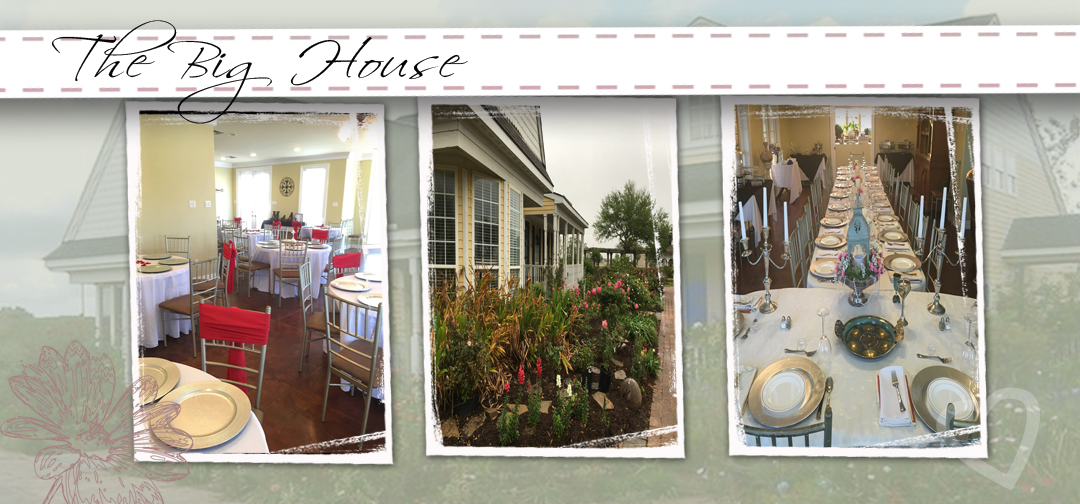 Sherwood Forrest
Sherwood Forrest is perfect for a small ceremony and reception for a Garden Party feel. It has perfect shade for the sun and view of the lake and all the gardens behind the Chapel.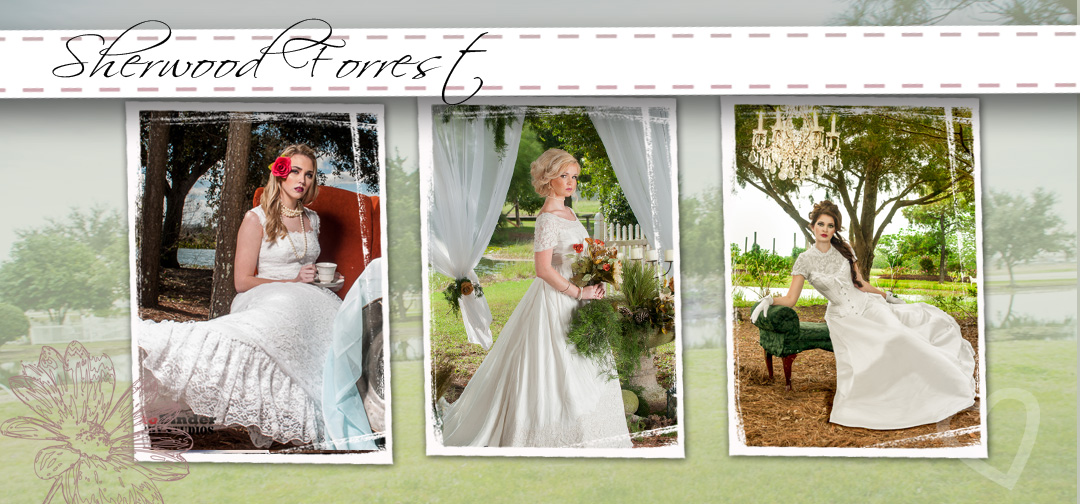 The Berm Top
The Berm Top has stairs to climb for those sunset photos that make you want to print and hang. It has a flat top a small ceremony or view of all of Binders Gardens Venue.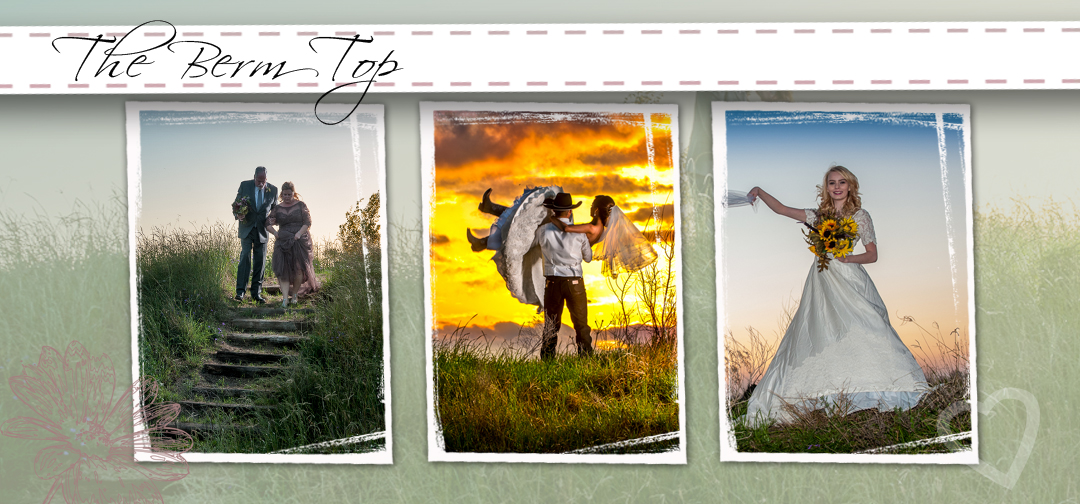 The Ivy Wall
The Ivy Wall is the perfect place for photos and sunsets are perfect for photos. The Ivy Wall is 80 feet of Ivy and is the popular place where all the photographers like to go, it at located at the end of the flat bridge with the split level water fall into the small ponds.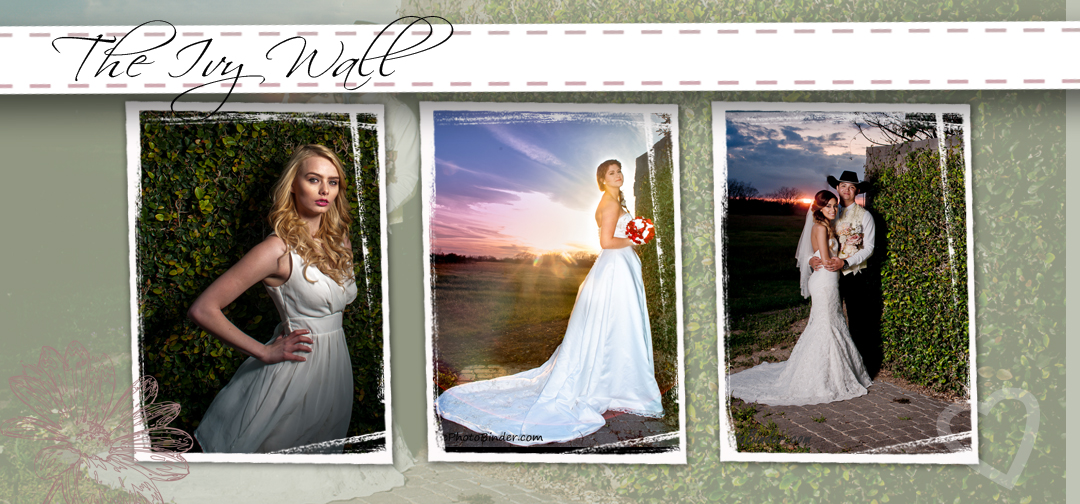 The Formal Rose Garden
The Formal Rose Garden is like being surrounded on all sides by literally hundreds of scented climbing and shrub roses. Named after the Victorian garden and landscape design of Gertrude Jekyll, the garden is surrounded by 50-10' wooden pillars, each entwined by two climbing roses. The Formal Garden is paved in gray cobblestone, giving it the look of an old English garden; it was patterned after one of Ms. Jekyll's designs. At one end of garden is a massive stone wall, 8' tall by 50' long and is covered with ivy vines. A popular place for photographers. Each end of the Formal Garden is two seating stone benches to reflect over your wonderful lifes event. The Formal Garden is an unique setting for small, elegant weddings, with lots of standing room only. Or you can setup an arbor at the center side toward the lake for a sunrise ceremony that can accommodate up to 150 guests or facing the field for the most amazing sunset ceremony to have our largest ceremony of 300 guests. There is always something blooming in the Formal Rose Garden, from Hybrid Musk 'Buff Beauty' (1939) to the China Rose, 'Climbing Old Blush' (ca. 1760).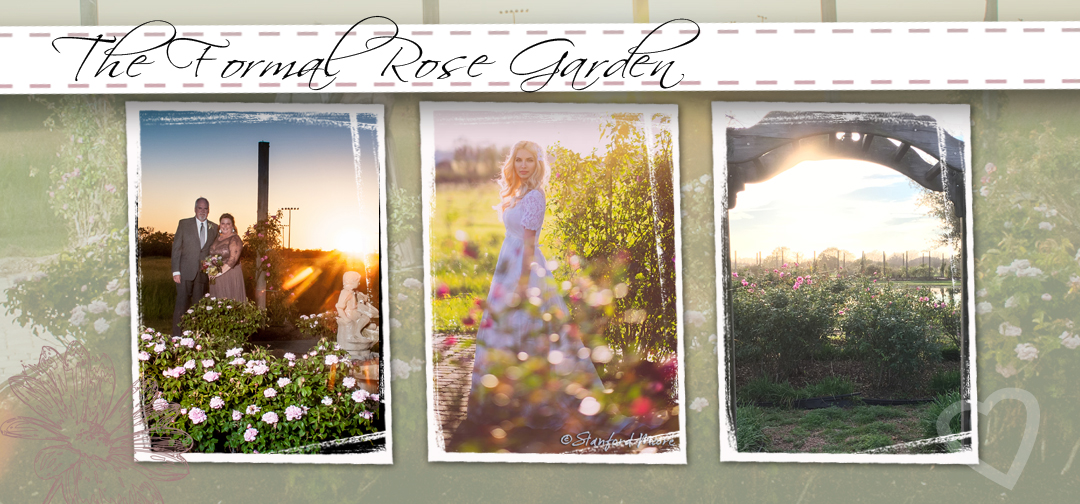 The Studio
The Photography Studio is a portrait studio available to rent to shoot. Click on the "Studio LINK" above to reserve your time slot. The Photography Studio also transforms into a Grooms Studio for up to 10 guests. Complete with lots of Mirrors, dressing area, TV, Mini Frig and sitting area.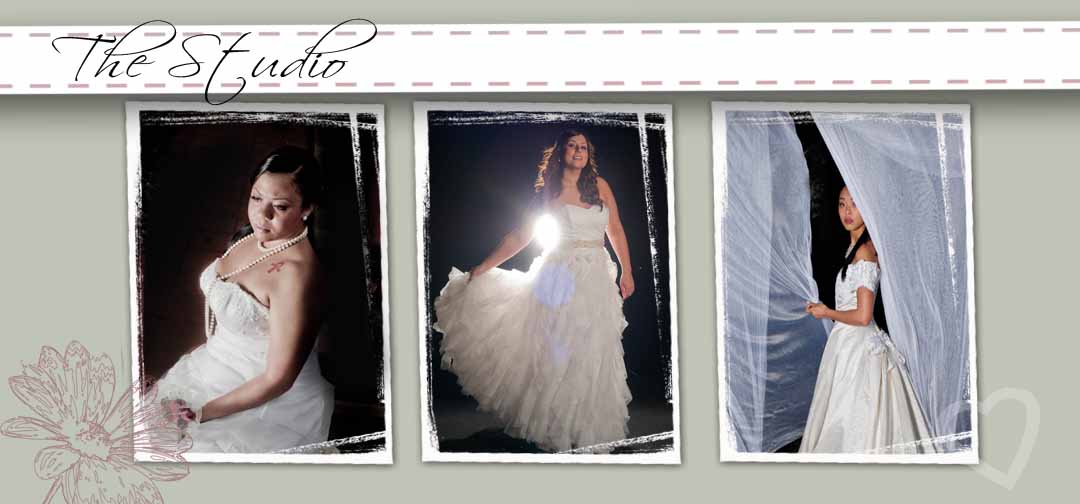 Binders Gardens is the perfect Venue for your outdoor event in Needville, TX. Located SW of Houston, we want to stimulate your senses.
Binders Gardens is our little Piece of Heaven with many locations on the property to host your important life events.
Go vintage with a romatic fairytale backdrop of the gardens in heels and black ties or roses and cowboy boots! The options are endless at Binders Gardens outdoor venue! From outdoor weddings to outdoor parties, wedding showers, baby showers, commitment ceremonies, reunions, and anniversary parties, Binders Gardens is the perfect outdoor, garden venue, for your upcoming event!
Binders Gardens Venue is a very affordable venue with straight up pricing. Once you book your wedding event with Binders Gardens Venue it's up to you which location you would like to have your special day at with no extra charges. Chairs, Tables, Lien, 2 hr Rehearsal, 3 hr Studio and ground time with your photographer, 5 hr in the Bridal Suite to get ready in are always included. Binders Gardens Venue want your special day to be memorable experience that you will look back at and all your guest will say wow how did you find this place.



FOR WEDDING PACKAGES
We at Binders Gardens would love to give you a personal tour of Binders Gardens. We have almost 700 Rose Bushes to make your experience breath-taking. Experience a peice of our heaven in person and take that first step to your dream come true.
Click here to request Our Wedding Packages.